Don't Just Kinda TV. DIRECTV.
DIRECTV is the #1 satellite TV provider1 in the country. With a 99% signal reliability2 and over 80,000 shows and movies on demand3, it's easy to see why.
Watch live sports, breaking news, and your must-have shows and movies and take your content on the go.
Plans Starting at
for 12 mos., plus taxes
w/ 24-mo. agmt. AutoPay and paperless bill req'd. Prices higher in 2nd year.


See details
*$150 DISH SWITCHER REWARD CARD: Offer ends 6/30/22. Select customers only. Requires purchase of qualifying DIRECTV package (min. $74.99/mo. for 12 mos. Price higher in 2nd year). Excludes DIRECTV STREAM. Customer must install and activate new DIRECTV service. Must submit a DISH bill dated within past 6 months that reflects matching customer last name and/or address. LIMIT ONE $150 REWARD CARD OFFER PER DIRECTV ACCOUNT. Reward Card: Will be e-mailed or mailed a notice with redemption requirements. Redemption req'd w/in 75 days from notification e-mail or mail date. Card delivered within 3-4 weeks after redemption to customers who maintain and pay for qualifying service from activation date and through reward fulfillment. Card expires at monthend 6 months after issuance. For cardholder agreement, go to www.directv-rewardcenter.com The Visa Reward Card is issued by The Bancorp Bank pursuant to a license from Visa U.S.A. Inc. and can be used everywhere Visa debit cards are accepted in the United States, US Virgin Islands, and Puerto Rico. No cash access. The Bancorp Bank; Member FDIC. The Bancorp Bank does not endorse or sponsor and is not affiliated in any way with any product or service offered by DIRECTV. May not be combined with other promotional offers on same services and may be modified or discontinued at any time without notice. Must maintain service from installation date and through reward fulfillment to remain eligible for all offers.
**Offers end 7/22/22. New approved customers only. With 24/mo. agmt. Price higher in 2nd year. Includes $10 bill credit each month for first 12 months. Redemption required.
$19.95 ACTIVATION, EARLY TERMINATION FEE OF $20/MO. FOR EACH MONTH REMAINING ON AGMT., EQUIPMENT NON-RETURN & ADD'L FEES APPLY. Price incl. TV Pkg., monthly service and equip. fees for 1 HD DVR & is after $5/mo. autopay & paperless bill discount for 12 mo. Pay $69.99/mo. + taxes until discount starts w/in 3 bills. New approved residential customers only (equipment lease req'd). Credit card req'd (except MA & PA). Restr's apply.

HBO Max: Access HBO Max only through HBO Max app or hbomax.com with your AT&T log-in credentials. Compatible device or browser required. Visit hbomax.com/terms-of-use for details. Programming and content subj. to change. Upon cancellation of your video service you may lose access to HBO Max. Limits: Access to one HBO Max account per AT&T account holder. May not be stackable w/other offers, credits or discounts. To learn more, visit att.com/directvfees for additional details. Different offers may apply for eligible multi-dwelling unit and telco customers.


DIRECTV SVC TERMS: Subject to Equipment Lease & Customer Agreements. Must maintain a min. base TV pkg of $29.99/mo. Programming, pricing, terms and conditions subject to change at any time. Some offers may not be available through all channels and in select areas. Visit directv.com/legal or call for details.

Offers may not be combined with other promotional offers on the same services and may be modified or discontinued at any time without notice. Other conditions apply to all offers.

HBO MAX™ and related service marks are the property of Warner Media Direct, LLC.

©2022 AT&T Intellectual Property. All Rights Reserved. AT&T, Globe logo, DIRECTV, and all other DIRECTV marks contained herein are trademarks of AT&T Intellectual Property and/or AT&T affiliated companies. All other marks are the property of their respective owners.
Close
Compare DIRECTV Packages
With hundreds of channels, including tons of live sports and events, everyone in your family will be entertained.

Experience the Magic of Genie with DIRECTV
Meet Genie, the HD DVR system that powers your whole home. Genie comes with 1 terabyte of HD DVR storage, which means you can have all the shows you want saved1 and have plenty of room to spare.
Here are some more features that'll make you love Genie.
Free Genie HD DVR upgrade
Store over 450 hours of your favorite HD content
No more recording conflicts: Genie lets you record any 7 shows you want at the same time, two in 4K
4K ready:2 Watch and record 4K content on up to two 4K TVs at once
With DIRECTV, there's no equipment to buy
With DIRECTV, Take Control of Your Content
You can access more than 80,000 shows and movies On Demand1. Enjoy 330 channels2 including live regional and national sports, breaking news and the hottest shows and movies.
You can stream on up to five screens at once and download your Genie DVR recordings to take your shows with you on the go.

Three Months of HBO Max When You Buy DIRECTV
Get three months of HBO Max™ included* and enjoy all your favorites, including all HBO channels, in one place. Plus, get Cinemax, STARZ, SHOWTIME, and EPIX for 3 months—at no extra charge.
HBO Max is included permanently with DIRECTV PREMIER.
Bundle DIRECTV with AT&T FIBER
DIRECTV is the Undisputed Leader in Sports*
DIRECTV gives you access to MLB, NBA/WNBA, NHL, PGA Golf, USTA Tennis, Premier League and Major League Soccer, college football, NCAA basketball, NASCAR, Formula 1 racing, boxing, UFC, WWE…the list goes on.*
Sports are always in season at DIRECTV.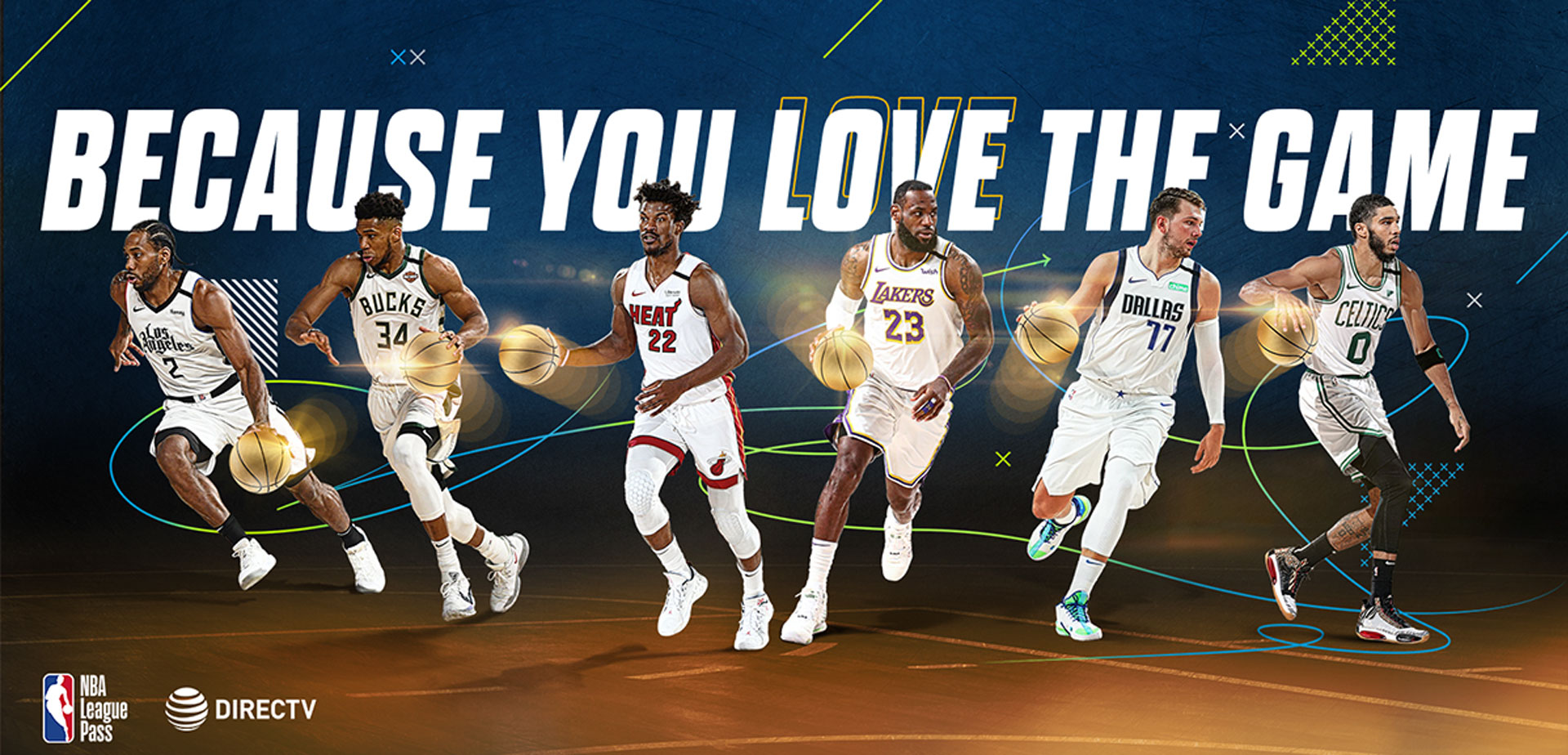 NBA League Pass: Watch up to 40 live out-of-market games a week on TV or your favorite connected devices.
MLB EXTRA INNINGS®: Up to 90 out-of-market games a week. Plus, get MLB.TV live streaming included at no additional cost.1
NHL® CENTER ICE®: Up to 40 out-of-market games a week. Plus, you also get NHL Network at no additional charge.
Sports Pack: over 40 regional and specialty sports networks from around the country, plus Universal Sports Network, ESPN Classic, Outdoor Channel, and more!
MLS DIRECT KICK™: Follow all 26 MLS clubs with 300+ regular season out-of-market matches.
Boxing & Live Events: Catch boxing and other live events on DIRECTV Pay Per View.
The Industry's Best Picture Format Belongs to DIRECTV
DIRECTV has the most live sports in 4K HDR* of any TV provider, including the most NBA games in 4K. You'll be immersed in the action and feel like you're actually on the court, field or ice.
DIRECTV's 4K is four times the resolution of HD, giving the action richer colors and lifelike clarity.
Here are some more reasons to love DIRECTV in 4K:
Live events and concerts in 4K HDR: DIRECTV brings you more of the entertainment you want, like major sporting events and unique concerts.
Exclusive 4K HDR programming: DIRECTV brings you exclusive content in 4K HDR, from original series to travel shows and more. With picture this amazing, it's almost as if you're there in person!
No more buffering, and no internet required: DIRECTV brings you 4K HDR entertainment directly via satellite, so you don't have to choose between 4K HDR and your internet speeds.
DIRECTV offers a 24/7 full-time 4K Ultra HD Channel: DIRECTV brings you a 4K Ultra HD channel around the clock. From original series to travel shows and more, there's always something to enjoy!
Frequently asked questions
Is AT&T the same as DIRECTV?
No, DIRECTV is a standalone TV company previously owned by AT&T.
Is DIRECTV 4K?
DIRECTV offers 4K programming but not every channel is 4K. You need to have a 4K TV to experience 4K.
Is DIRECTV satellite?
Yes, DIRECTV is a satellite TV provider. It transmits TV signals to the U.S., Latin America and the Caribbean.
What is DIRECTV Genie?
DIRECTV's Genie is an HD DVR that allows you to record shows from any room in your home using only one DVR.