Frontier® Fiber is built for your household
Frontier has an expanding fiber network that is connecting more and more people across the country with high-speed internet. Frontier Fiber provides super-fast speeds for a price that will make you happy. Additionally, there are plan options available that don't require an annual commitment.
Your family can stay connected faster than ever with no data caps, ever, when you choose Frontier.
In select areas where available.
Get connected with fiber plans starting at
.99
w/Auto Pay & Paperless Bill
per month w/ Auto Pay & Paperless Bill. Max wired speed 500/500 Mbps. Wi-Fi, actual & average speeds vary. One-time charges apply. In select areas where available.
Compare fiber internet plans
Work and play your way
Enjoy blazing-fast speed with the freedom you want. Frontier offers fiber service that has everything you need and nothing you don't. In other words, "no" can occasionally be a great thing.
No hidden monthly fees
Get the connection you need with no hidden Wi-Fi router fee, modem fee or internet surcharge.
No annual commitment
Frontier offers plan options without an annual contract requirement.
No extra Wi-Fi charges
Fully optimized wireless router included with every install.
No data caps or overage charges
Frontier Fiber is not only fast, but also comes with unlimited monthly data.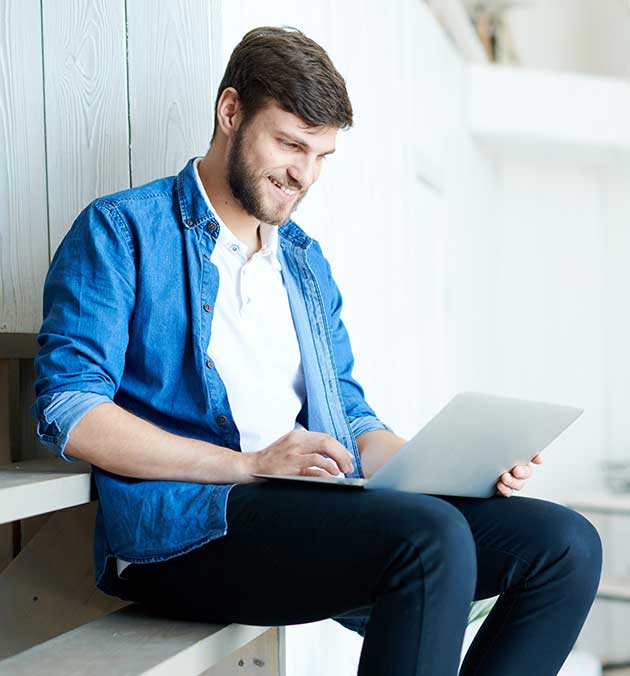 Maximize your online experience
Frontier Fiber is delivered over a fiber-optic network that enables fast speeds in both directions for uploads as well as downloads. You'll get the connection you need to empower smooth streaming, gaming and video chatting for your whole family to enjoy. Plus, your service is backed by 24/7 technical support.
Call now and check availability in your area
Get more value with your fiber package
Although Frontier Fiber is a highly capable service all by itself, we make it easy for you to get the most out of your service from Frontier. Getting your full Frontier advantage is as easy as adding on another benefit to your Fiber plan. Check out our list of excellent add-ons below.
Add Frontier Secure®
For an additional monthly fee, Frontier offers digital security services designed to help keep you and your devices safe, including services like My Premium Tech Pro‡, HomeShield Elite, and eero Secure. Call now to learn more.
Add Frontier Unlimited Digital Voice
Filling out your Frontier package with value is as simple as adding Frontier Unlimited Digital Voice to your plan. You'll get unlimited minutes to talk to the people you love through a connection with crystal-clear call quality with a variety of call management services like Voicemail and Three-Way Calling. You can also get access to even more features like robocall blocking and web-based flexible call management. Additional monthly fees, taxes and surcharges apply.
Fiber networks are still growing
If you're in an area is not yet equipped with Fiber Internet capabilities, you can still enjoy our Frontier Internet. If you're not sure whether you have access to Frontier Fiber or not, then just give us a call! Our customer representatives would be happy to help you discover your options.
Frontier tech support has your back
If you ever experience any technical issues with your service, you can feel confident to know that our tech support professionals are standing by 24/7 to assist you.
Frequently asked questions
What's different about Frontier Fiber?
Frontier Fiber is powered by a fiber-optic network that transmits data via pulses of light rather than electrical signals. This advanced technology can provide both fast download and upload speeds as well as low latency for enhanced performance.
Where is Frontier Fiber available?
Frontier Fiber is now offered in: Arizona, California, Connecticut, Florida, Illinois, Indiana, Michigan, Minnesota, New Mexico, New York, Ohio, Pennsylvania, South Carolina, Texas, Wisconsin, and West Virginia. Call today to find out which services are available at your specific address.
How fast is Frontier Fiber?
Where Frontier Fiber is available, max wired speeds can be as fast as 5,000 Mbps.
How much does Frontier Fiber cost?
Frontier Fiber offers great value across the board, particularly when you factor in fast speeds in both directions, unlimited monthly data and no extra Wi-Fi charges. Fiber plans start at $49.99 for Fiber 500, which gives speeds up to 500 Mbps.
Does Frontier require a contract?
No. Frontier services do not require you to sign annual contracts.