What Is Mesh Wi-Fi?
Mesh Wi-Fi networks use multiple access points, or nodes, evenly distributed throughout a space to maximize Wi-Fi coverage. But how exactly does mesh Wi-Fi work, and is it a good fit for your home?
Table of Contents
What Is Mesh Wi-Fi?
Differences Between Traditional Wi-Fi and Mesh Wi-Fi Networks
Pros and Cons of Mesh Wi-Fi
Is Mesh Wi-Fi Worth It?
Top Mesh Wi-Fi Providers
FAQ
Summary
Mesh Wi-Fi networks are reliable, easy to install and are perfect for homes on the larger side. You get an evenly distributed blanket of coverage throughout your whole home through the use of many satellite nodes that are connected with each other without relying on the main router. This makes mesh Wi-Fi a perfect solution for homes with many rooms, floors or odd nooks and crannies where traditional Wi-Fi routers may not reach.
What Is Mesh Wi-Fi?
Mesh Wi-Fi uses multiple access points, or nodes, placed around a home to evenly extend wireless internet coverage. While traditional Wi-Fi uses a single router to cover all areas in a home, a mesh system uses many "satellite" nodes that connect with a central, main router. Once the mesh system is established, the Wi-Fi signal then takes the most convenient path from point A to point B, and so on.
These satellite nodes do not need direct access to the main router in order to be functional. Instead, all nodes communicate wirelessly with spider web-like coverage. The signal takes the best path through the blanket of coverage between your device and the closest node.
For example, if you have a mesh Wi-Fi system in your home, you may choose to keep your main router in your living room. You may then have another node in an upstairs bedroom, one in your basement and one in another far away room on your main floor, a total of four nodes in your home. If you want to use the Wi-Fi while upstairs, your device will connect with the upstairs node instead of the main router. Best of all, your mesh Wi-Fi system uses a single network inside your home, improving convenience and overall connectivity.
Mesh Wi-Fi systems are especially useful in larger homes that can benefit from more than one Wi-Fi access point.
Differences Between Traditional Wi-Fi and Mesh Wi-Fi Networks
The main differences between mesh Wi-Fi and traditional Wi-Fi systems revolve around connectivity and convenience.
Overall Network Strength
Mesh Wi-Fi networks are reliable and remarkably consistent throughout a home thanks to the distribution of nodes. Even what would be considered to be a wireless dead zone, like an attic or the corner of a basement, can be covered completely with a mesh Wi-Fi system. Of course, it is still necessary to place a node close to these zones, but placing it on the same floor and not near any large obstructions should suffice.
With traditional Wi-Fi networks, you may notice plenty of lousy coverage spots in your home. The best solution for this is to use Wi-Fi extenders or upgrade to a stronger router, though both of these solutions have their drawbacks. Every Wi-Fi extender you use will use a different Wi-Fi network. This means that you can have multiple Wi-Fi networks within your home, and you will be responsible for switching between them when you go from network area to network area. This could result in dropped connections and slower internet speeds than desired. A stronger router is a decent solution, especially if your internet plan is high-speed, but these can be very pricey, often times just about the same cost as a mesh system. And you also need to be cognizant if it is even compatible with your internet service provider.
Convenience of Mesh Wi-Fi Systems
Mesh Wi-Fi systems are efficient and convenient. They are designed with evenly distributed coverage in mind – especially in larger living spaces where connections can be weak. Your entire home is covered thanks to evenly distributed satellite nodes, meaning your wireless internet connection should be fast and dependable no matter where you are. Best of all, mesh Wi-Fi systems use a single network throughout your living space, and you can use as many or as few nodes as you would like. For example, if your home is on the smaller side but you know you want better coverage upstairs, you can opt for a main node and one single satellite node placed upstairs. If your home is larger, go for four or five nodes to maximize your coverage in every nook and cranny. Be sure to place your nodes in optimal locations – away from thick obstructions and other frequency-emitting devices, like microwaves – to make the most of your internet speeds.
Pros and Cons of Mesh Wi-Fi
Mesh Wi-Fi systems are a great fit for many homes, but that doesn't mean that they are without negatives.
Pros
Convenient: Mesh Wi-Fi systems create a single network of coverage by using multiple access points across a home
Easy: Installing and setting up a mesh Wi-Fi system is incredibly easy
Reliable: When one node goes down, fear not! Your signal is re-routed through the next closest node
Futuristic: Mesh Wi-Fi systems are undoubtedly the future of Wi-Fi technology, and the technology involved will continue to improve
Cons
Expensive: Mesh Wi-Fi systems are great, but come at a high cost, especially for homes needing many nodes
Unnecessary: A traditional Wi-Fi system with a Wi-Fi extender or two will probably work for most smaller homes
Is Mesh Wi-Fi Worth It?
Mesh Wi-Fi is totally worth it if you have a home on the larger side, and if you have some money to invest in optimizing your home internet. Having a fast and reliable internet connection has never been more important, and its importance will only continue to increase as time moves forward. An easy way to make the most out of your home internet plan is by implementing a mesh Wi-Fi system.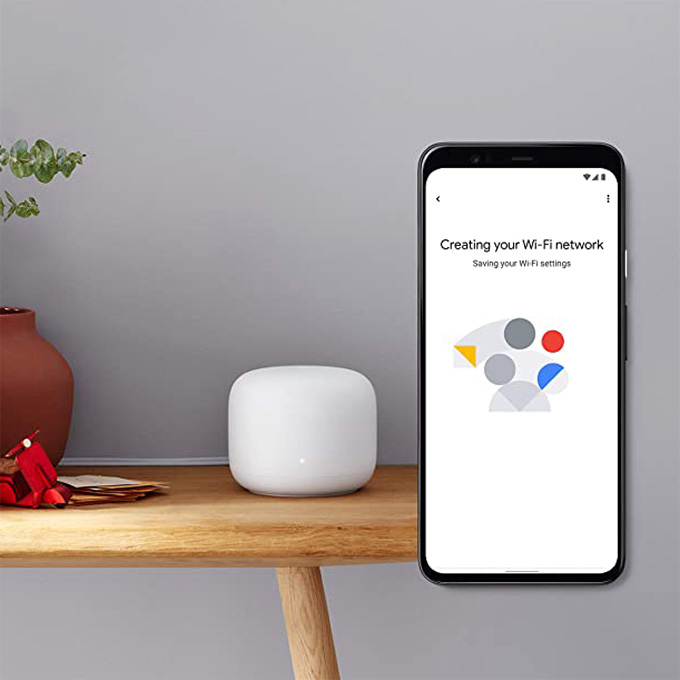 Top Mesh Wi-Fi Providers
Here are some top mesh Wi-Fi systems that are popular in 2022:
Google Nest WiFi
Netgear Orbi WiFi
Amazon Eero
TP-Link Deco
Frequently asked questions
What is mesh Wi-Fi?
Mesh Wi-Fi uses multiple wireless nodes placed around a home to evenly distribute Wi-Fi coverage.
How does mesh Wi-Fi work?
The satellite nodes used in a mesh system are all connected to each other wirelessly, forming a blanket of coverage. When your wireless device needs to to send out a signal, it uses the closest node instead of needing to rely on the main, central router. Mesh Wi-Fi networks also help to eliminate dead zones in homes by distributing access points.
Is mesh Wi-Fi or traditional Wi-Fi better?
Mesh Wi-Fi systems are great for larger homes or for households willing to invest in them, as they do not come cheap. Traditional Wi-Fi should provide ample coverage for most homes, albeit with connection issues in far away or obstructed areas.
Is mesh Wi-Fi worth it?
If you have a large home and money to spend upfront, definitely go with a mesh Wi-Fi network. The headaches relieved from no longer dealing with spotty network connectivity will more than outweigh any upfront setup costs.