Broadband "Nutrition" Labels Now Approved by the FCC
Ever looked at an internet provider's website only to emerge with what feels like less information than what you started with? We get it, and so does the FCC. That's why the FCC has approved a measure to require internet brands to provide informational labels on their plans before customers purchase their services. Read on to find out more about what that means for you.
Table of Contents
What Is a Broadband "Nutrition" Label?
Why Did the FCC Vote to Approve Broadband Labeling?
What Happens Next With Broadband Fact Labels?
Broadband Label FAQ
Summary
In January 2022, the FCC approved a proposal to eventually require all broadband providers to include a label on their marketing materials at point of sale. These labels would disclose prices, rates, plan policies, plan parameters, and more to customers—before they sign the dotted line. This measure is currently undergoing revision and approval processes before becoming an active mandate.
What Is a Broadband "Nutrition" Label?
At National Broadband, we're all about making your search for internet as painless as possible. As it turns out, the Federal Communications Commission (FCC) is focusing on that, too. On January 27, 2022, the FCC voted unanimously to approve a Notice of Proposed Rulemaking regarding how internet providers market their broadband subscriptions, namely that internet brands must explicitly provide a broadband label for their services before the point of purchase.
Occasionally dubbed the "broadband nutrition label" due to the proposed label's resemblance to the Food and Drug Administration's (FDA's) food nutrition label, this prospective label aims to ensure that providers divulge unembellished facts about their services at the point of sale (or, in other words, plainly tell you what you're about to buy before they actually sell it to you). These facts include things like true monthly price, other charges, data restrictions, policies, performance parameters, and more.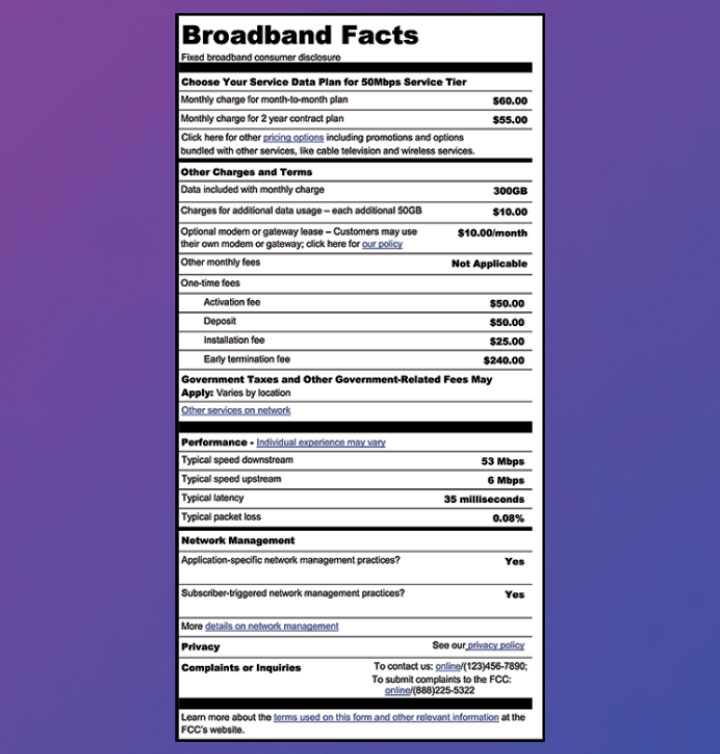 Why Did the FCC Vote to Approve Broadband Labeling?
Interestingly enough, this proposal is not new. Back in 2015, the FCC first launched this labeling initiative under the Open Internet Order, which was repealed in late 2017. Somewhere in between the birth and death of that order, the FCC approved a general framework for broadband labeling. This was done in an effort to provide more transparency to consumers looking for internet services that meet their needs and budget.
According to then-FCC Chairman Tom Wheeler in a press release about the new internet labels, broadband labels are about increasing the accessibility of internet plans for customers. He said, "These labels provide consumers clarity about the broadband service they are purchasing, not only helping them to make more informed choices but also preventing surprises when the first bill arrives…Customers deserve to know the price they will actually pay for a service and to be fully aware of other components such as data limits and performance factors before they sign up for service." So, in other words, the FCC has been trying to help customers navigate the murky waters of broadband subscriptions since 2016. To that end, they attempted to create a lingua franca for the jargon nobody understands when they encounter marketing materials for internet plans in the wild.
Why stake this particular flag at this particular time? In the same press release, former Director of the Consumer Financial Protection Bureau, Richard Cordray, said, "Broadband is quickly becoming a necessary part of everyday life for millions of consumers." And that, again, was in 2016. After struggling through a global pandemic that stuffed those consumers into quarantine with painfully limited non-digital connection, it's safe to say that more people agree with former Director Cordray than ever before.
Now, if the labels were thought up in 2016, why are broadband labels something the FCC is circling back to in 2022? Simple: in 2016, the internet fact labels were approved but not made mandatory for all internet providers. Understandably, when given the option to use this new label, internet providers did not jump at the chance to plaster it all over their marketing materials. As helpful as this label is created to be for customers, it could be just as detrimental to the image that an internet provider might try to create for their product.
Therefore, this year and in conjunction with the Infrastructure Investment and Jobs Act, the FCC is trying again to implement those broadband fact labels that could help consumers make more informed decisions about which internet brand they sign up for. Current FCC Chairwoman Jessica Rosenworcel notes that this labeling move is geared toward ending "efforts to bury the facts in the fine print and […] to stop unexpected costs and fees." Clear labeling of broadband services may also increase competition between providers and may, in turn, produce better deals for consumers.
What Happens Next With Broadband Fact Labels?
Although the FCC has now approved the future move of making broadband labels mandatory, this rule can't go into effect just yet. Before that, the FCC is seeking public comment on the eventual broadband labels as well as other relevant questions about content and format. This step of the process is important for ensuring the usability of these proposed labels by helping the FCC learn more about what a typical consumer would need out of the label. These rules must be finalized in November of this year.
Frequently asked questions
What is a "broadband label"?
Sometimes also called a "broadband nutrition label," a broadband label is a set of clear facts and prices related to an internet service that would be featured on an internet provider's marketing materials at point of sale. This measure is not yet an active mandate from the FCC. For now, it is a proposed measure that has yet to go through more rounds of revision and approval.
Where can I find a broadband label?
The broadband label initiative from the FCC is not yet active. However, if the measures currently in motion are approved, then you'll be able to find broadband "nutrition" labels on an internet provider's marketing materials at point of sale.
What is the point of a broadband label?
The method of labeling broadband provider plans is geared toward helping consumers make more informed decisions about their internet plan purchases. This might be achieved by providing customers with a label containing clear prices and service parameters before the moment of purchase so that customers know what they are buying before committing a subscription.